GENERAL INFORMATION
Everything you will need to know about the 2019 AKA Warrior Cup Schedule, Divisions, Pricing & Finals.
SCHEDULE
THURSDAY
6:00PM
Banquet Registration Pick-up
7:00PM
Doors Open for NASKA Awards Banquet
7:30PM
Dinner & Awards Banquet Begin
FRIDAY
11:00AM
Registration Opens
1:00PM
Officials Meeting (required for all Judges/Scorekeepers
to receive Friday credentials)
2:00PM
All Ranks: Team Sync, Team Demo, Team
Sparring, Open Sparring & Traditional Challenge

5:00PM
Friday Divisions Begin
Black Belt: All Musical & Extreme Divisions, Creative Weapons Only
Under Belts: All Musical, Extreme & Creative Divisions
All Ranks: Tricking
UNDER BELT NOTE: ALL Creative, Musical, & Extreme Divisions are now on Friday as well as Teams & Tricking!
SATURDAY
7:00AM
Registration Opens
8:00AM
Officials Meeting (Required for all Judges/Scorekeepers
to receive Saturday credentials)
9:00AM
Saturday Divisions Begin
Under Belt: All Traditional Divisions, Sparring
Black Belt: All Traditional Divisions, Creative Forms Only, Point, Continuous & Clash Sparring
All Ranks: Tang Soo Do Divisions, Breaking
3:00PM
Warrior Cup Mini Finals Begin – Under Belts
7:00PM
Warrior Cup Finals Doors Open
7:30PM
Warrior Cup Finals Begin
IMPORTANT
Black Belt run-offs/grands will start immediately after divisions are finished on Saturday
DIVISIONS
To see a full list of divisions, please visit our divisions page. If you are unsure of which division(s) you qualify for, go to the registration page and enter in the competitors information. A list of your eligible divisions will automatically appear once you have filled out the following fields: Birthday. Gender, Rank/Belt Color, and Weight.
DAYS OF DIVISIONS
FRIDAY
ALL RANKS:
Team Sync, Team Demo, Team Sparring,
Open Sparring, Traditional Challenge & Tricking
BLACK BELTS:
Musical Forms, Musical Weapons, Extreme Forms,
Extreme Weapons, Creative Weapons Only +
All Rank Divisions Listed Above
UNDER BELTS:
Creative Forms, Creative Weapons, Musical Forms,
Musical Weapons, Extreme Forms, Extreme Weapons +
All Rank Divisions Listed Above
SATURDAY
ALL RANKS:
All Tang Soo Do, All Chinese/Dragon Head, All Tae Kwon Do Divisions
Breaking
BLACK BELTS:
Traditional Forms, Traditional Weapons,
Creative Forms Only, Point, Continuous & Clash Sparring +
All Rank Divisions Listed Above
UNDER BELTS:
Traditional Forms, Traditional Weapons, Sparring +
All Rank Divisions Listed Above
AKA WARRIOR CUP PRICING
| PRICING | OCT 1 - OCT 31 | NOV 1 - NOV 30 | DEC 1 - DEC 31 | JAN 1 - DOOR |
| --- | --- | --- | --- | --- |
| Standard First Division | $70 | $75 | $80 | $85 |
| Standard Each Additional | $40 | $45 | $50 | $55 |
| Black Belt Demo/Sync | $150 | $150 | $150 | $150 |
| Under Belt Demo/Sync | $100 | $100 | $100 | $100 |
| Team Sparring | $150 | $150 | $150 | $150 |
| Traditional Challenge | $50 | $50 | $50 | $50 |
| Tang Soo Do/MooDukKwan First Division | $50 | $60 | $70 | $75 |
| Tang Soo Do/MooDukKwan Each Additional | $10 | $15 | $20 | $25 |
| SPECTATOR TICKETS | |
| --- | --- |
| Weekend Pass (Includes Warrior Cup Finals GA) | $45 |
| Saturday Only (Includes Warrior Cup Finals GA) | $25 |
| Friday Only | $20 |
AKA WARRIOR CUP FINALS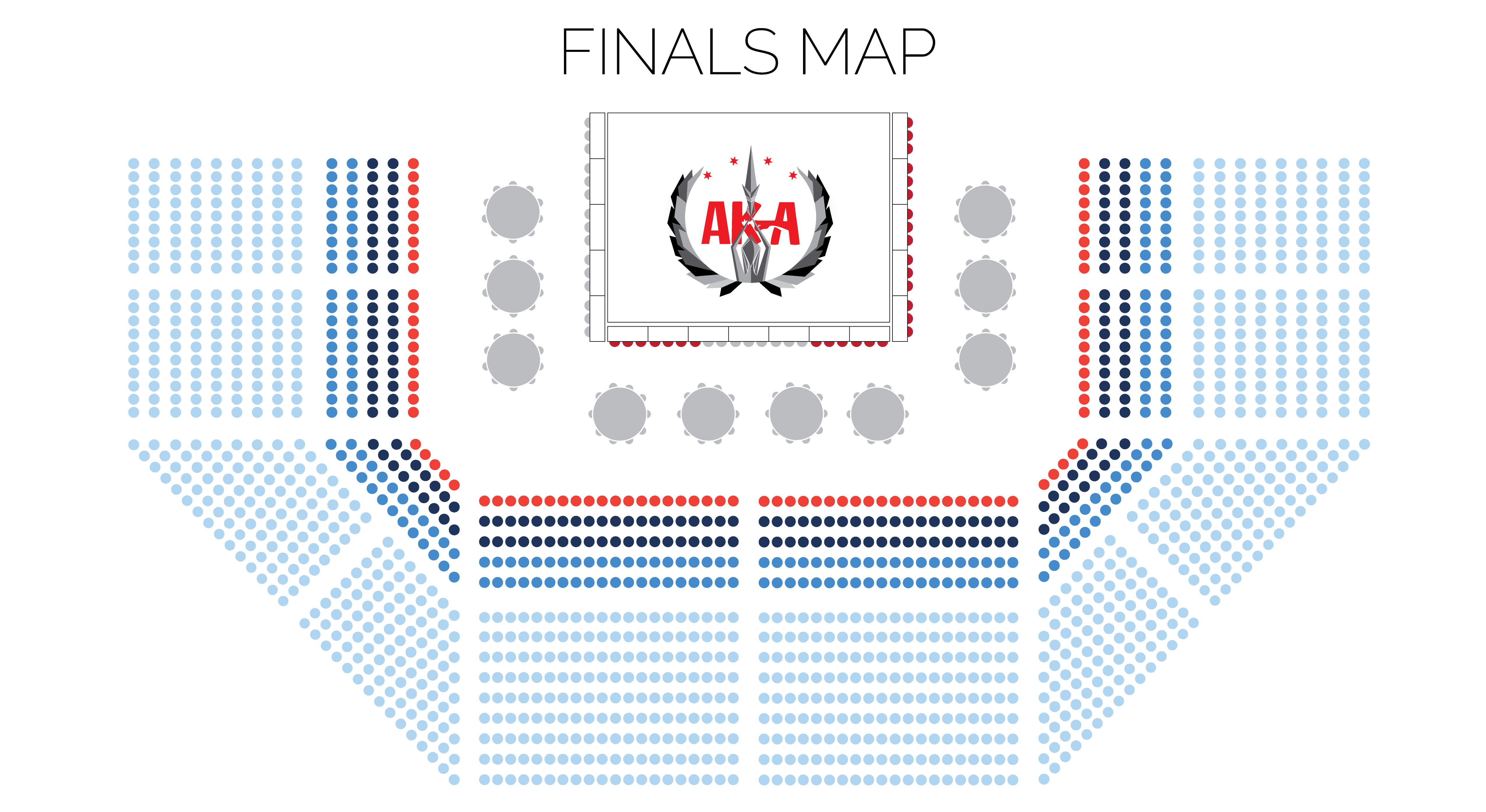 WARRIOR CUP FINALS TICKETS
PLATINUM  •  Ringside Seat  •  $100
GOLD  •  First Row Seat  •  $75 
SILVER  •  Second & Third Row Seat  •  $55
BRONZE  •  Fourth & Fifth Row Seat  •  $50
GA  •  General Admission   
WARRIOR CUP FINALS UPGRADES*
PLATINUM  •  Ringside Seat  •  $80
GOLD  •  First Row Seat  •  $55 
SILVER  •  Second & Third Row Seat  •  $35
BRONZE  •  Fourth & Fifth Row Seat  •  $30
*Discounted for Competitor & GA Spectator